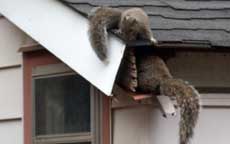 We've all seen squirrels in trees and in our parks or yards, but if you are hearing scampering, chewing, and scratching noises in your home during early morning hours, you may have squirrels living in your home. It is not uncommon for a squirrel to take up residence when it finds a small opening to your house.
While you may find twigs and leaves as a sign of nesting, squirrels and their young are often very concealed. However they will cause very obvious damage to your home in a small amount of time. They will chew through insulation and wires, leave behind their waste that can carry serious diseases, and if they aren't cause quickly, they will cause significant damage to the outside of your house chewing numerous holes as entry points.
Squirrels breed 2 times a year, once in the spring and once in the fall. Once the babies are ready to leave the nest, they will go in search of a place to build their own nest, which is often close to where they were born. Needless to say, once a nesting place has been established, its hard to remove them.
Its important when removing the squirrels all entry points are closed off. If even one is left open, you may still be susceptible.